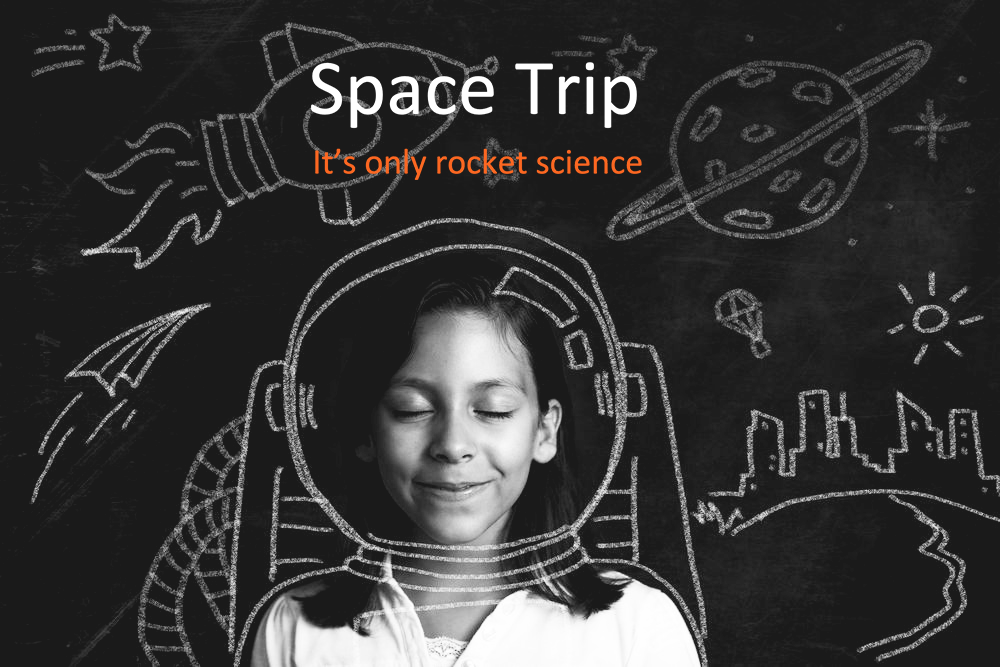 NASA Space Apps Hackathon 2018
Educating young rocket scientists one choice at a time.
About the project
Overview: This project was done as a part of the NASA's Space apps hackathon @ University of Technology Sydney. It was a 48-hour event, where participants competed to solve a specific real-world problem through rapid prototyping and design thinking.
Discipline: Design thinking, Ideation, Prototyping, User Testing, User Research, Data analysis
Design Tools: Illustrator, Invisionapp, Matlab, GitHub, Keynote, Powerpoint
Year of Completion: October 2018
Team Members: Kim Sanders, Polly Au, and Junran Cao
I went to my very first hackathon and felt exhilarated. I teamed up with a data scientist and another digital designer/early childhood educator and made a prototype within 48 hours! It was a challenging global event but nevertheless, I learnt a ton from it!
My Goals
My goals were to:
1. Critically analyse and solve challenges within 2 days
2. Communicate my thinking and design process
3. Make something (application/website/toolkit/product) by the end of it
4. Practice and develop soft skills
5. Network and speak up in the presentation
6. Most importantly, have FUN!
I am passionate about space and secretly want to go to Mars. I thought this was a great chance for me to flex my design muscles and learn. I went alone but came back with a valuable life lesson.
The Challenge
The challenge was to collect flight schedules and projected launch dates to assemble an app/website/online tool with all the latest rocket launch information.
The solution
We created a prototype to inspire future generation in STEM. We have designed a trivia game about rocket launch information. For this hackathon, we have focused in one question provided, " What factors go into a decision to launch?". This includes but not limited to; launch location, weather condition, major spaceports, and wind speed.
If you would like to see my process, please read on!
My role
My role was to develop a functional prototype and pitch the prototype in 3 minutes.
Info day: Stakeholder Interview | Building Rapport
Stakeholder Interview and
Impact Mapping
Plot twist: two of our members dropped out from the event.
I went around the event and talked to multiple people about what our strengths and capabilities were, what do we want to get out of this event, and what our career aspirations are. I then formed a team of four on the information day. I facilitated the impact mapping exercise to see what our common goals were for the event. We all aimed to complete the hackathon with a working prototype, without the use of voice integration due to time constraints.
We quickly formed a team of 2.5; a digital designer and early childhood educator (0.5), an UX/UI designer (1), and a data scientist (1).
And then, we settled on the challenge to tackle.
Privatised space flight is becoming increasingly popular in the media, another space-bound rocket seems to launch every week. Nations around the world have launched rockets carrying satellites and space probes within the past few years.
Our challenge was to collect flight schedules and projected launch dates to assemble an app/website/online tool with all the latest rocket launch information. We aimed to create an animated and interactive mobile app prototype which would be accessible, practical, educational, informational, and fun.
Hackathons happens within a very short time. Time management is extremely important. We worked together collectively and drew from our strengths. We brainstormed about what our final prototype would be like and then mapped it out using MosCow, based on personal skill-sets and preferences.
Now that we had identified the challenge, we then needed to think about the user experience.

Mae Jemison is a real life person. We have based the user persona as how an inspired child feels when she is aspired to work in STEM. This focus, along with others, in turns influenced our gender neutral branding and our logo mascot - Cosmo the dog.
Mae Jemison (born October 17, 1956) is an American engineer, physician and NASA astronaut.
She became the first African American woman to travel in space when she went into orbit aboard the Space Shuttle Endeavour on September 12, 1992. After medical school and a brief general practice, Jemison served in the Peace Corps from 1985 until 1987, when she was selected by NASA to join the astronaut corps. She resigned from NASA in 1993 to found a company researching the application of technology to daily life.
"In kindergarten, my teacher asked me what I wanted to be when I grew up, and I told her a scientist," Jemison says. "She said, 'Don't you mean a nurse?' Now, there's nothing wrong with being a nurse, but that's not what I wanted to be." - Dr. Mae Jemison.
We modeled the app mascot after a combination of inspirations: the first animal to orbit the earth, E.T. and a Pug. The first animal to actually go into orbit was the dog Laika, launched on board the Soviet Sputnik 2 spacecraft on November 3, 1957. E.T. was modeled after a pug and a 7 month old baby.
Will children engage in imaginative role play games? What rocket launch information should they gather? Are they interested in helping our mascot, cosmo the dog? How do we transform "grown up" data into child friendly and entertaining information? How do we educate people through games and turn the information into long term memory?
Blending gamification with rocket launch information
I have designed 37 screens at this point. The next challenge was to link it all together using invisionapp to create an interactive prototype for presentation: https://invis.io/4XOORC69C3H
The game mechanics are similar to the popular candy crush game. It has a story progression for the game play. Based on the multiple choice trivia model, players are gradually "eased into" the more advanced topics. The advanced topics can then be expanded into "map packs". We believe that this is a highly profitable game structure, as we can restrict the game play into 5 lives and recoverable by purchasing in game currency.
Machine learning and Data integration
This part was completed by the data scientist in our team.
Support Vector Machine proof of concept
The apparent simplicity of the questions belies the sophisticated data analytics that went into its creation. For example, in questions where the user is asked to make a 'GO' or 'NO GO' launch decision, we first gathered the following data:
Details of every successful launch for NASA from the Cape Canaveral Air Force Station in Florida over the past three years, including the rocket name, its company and the nature of the mission.
We then linked that information to the past weather data from the US National Weather Service at that locality to the nearest hour
A similar exercise is performed for delayed launches resultant from unfavourable weather conditions during the same time period
Next, we apply the supervised machine learning algorithm Support Vector Machines to classify the combination of weather factors, including temperature, wind speed and direction, humidity, barometer and visibility that are more likely to result in a successful rocket launch.
Finally, the prediction results are feed into the construction of the questions.
See Junran Cao's Github repository: https://github.com/Junran-Cao/NASASpaceAppSydney2018
Every 4 questions remain on a basic level. The fifth question (and its multiplier), face a challenge stage. Users are prompted 3 times before the stage, as we want the user to be challenged with change.
"Please report to mission control!" (OK) > "Are you ready?" (Set) > (Go)
Users have 10 seconds to decide whether the launch information, such as wind speed at 32km/h is suitable for the launch.
Similarly, the final question is on temperature.
The Solution and Impact
After publication, I interviewed 7 users digitally for usability testing. All users of the prototype had no trouble making sense of the interface that was presented and none expressed any sort of confusion. However, we found that we could improve the user journey and further activate the user reward psyche by adding in a "You're correct!" screen when they answered a correct answer.
Conclusion
I had a lot of fun in the hackathon, building life changing friendships and learning about new technologies from other participants such as data analysis, voice applications, and virtual reality. As a space geek, I feel that I have obtained some serious street credit just by participating in this event.
Reflection
This project was incredibly valuable. My main takeaways from working on this project were:
I now have the experience working in intense environments and learnt agile project management. It would be better if we have a developer on board.

It is always good to have plan B as some people may drop out and not be fully committed to the project.

How to choose and design solutions for product expansions.

Not enough content and design research are translated through the final design and presentation.

To win a hackathon, we must build a product that fits all of the judges' sponsored criteria.

I will definitely give VUI a try in my spare time because it seems so interesting!